New Members of the FSL Team – Business Development
Following last month's new members announcement, FSL continues its rapid expansion through the strengthening of its business development function, with the appointment of Paul Webb-Jones.
Paul has worked in the Financial Services sector since 1997 when he started his career at Fidelity Investments looking after high net worth private clients.  From here he moved into the market data industry with 7 years at Bloomberg selling terminals and data to private wealth and asset managers in Europe and the Middle East.
Since then, Paul has worked in the Middle East and Asia working for companies such as Computershare, Saxo Bank and Cornhill Investment Management.  Where he has built a strong network across the banking and wealth management sectors.
In his spare time, Paul enjoys a round of golf and a game of tennis.  Though his days of playing rugby and football have passed, he's now a keen armchair supporter of the sports.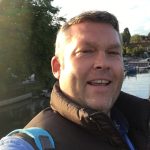 "Having worked part time for FSL for more than a year now, I have found the organisation to be friendly, knowledgeable and focussed on what they do.  This has not always been easy as I have met very few colleagues in person due to lockdown.
When I was asked to join permanently, I did not hesitate in signing on the dotted line.  I am looking forward to helping retain and build the FSL client base, and working on new projects and product developments."