Centrepoint Sleep Out
Last month, FSL's Megan Rook took part in one of Centrepoint's Sleep Out events.
A purpose of the Sleep Out is to increase awareness of youth homelessness and the struggles they face.  Taking part in the Sleep Out is one of the ways to make a positive impact and to raise funds for Centrepoint.  The money helps to provide "a job and a home" for young homeless people in the UK and aids Centrepoint to deliver the vital services they provide.
The Sleep Outs are an important part of Centrepoint's work by highlighting the issue of youth homelessness.  Last year, 103,000 young people approached their council for support and new research shows that 22,000 young people are facing homelessness this Christmas.
The charity states that Sleep Out is a "fundraising challenge that doesn't replicate what it's like to sleep rough, but gives an idea of the situation a lot of young people find themselves in, while also supporting those who face this as a reality".  Megan describes her experience….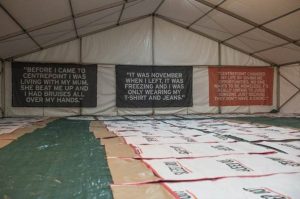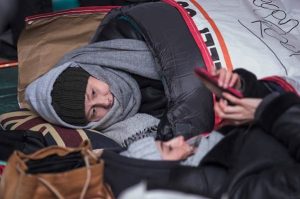 "On Tuesday 19th November, I could not have been more thrilled to have taken part in the London Sleep Out Event to help the amazing charity, Centrepoint.  Having read about Centrepoint's work, I felt passionate about helping such a fantastic and important cause by taking part in the Sleep Out.
There was so much going on at the event with live music and guest speakers.  There was a relaxed atmosphere so I was not anticipating such a difficult night.  It got very cold, very quickly! I was honestly pretty naive in the fact that I thought I was going to be warm enough.  Most of the coldness came from the ground and I could feel it sneaking through my many layers and my brand new 'winter capabilities' sleeping bag.
The experience gave me a new appreciation for the people I see on London's streets, especially through these winter months, and a greater understanding of why Centrepoint is so important.
There were over 120 people at the London event and by the end of the night, collectively we had raised over £42,000, which is pretty epic! 
I have to say a massive thank you to everyone in the FSL office!  It was honestly so lovely to see everyone getting behind the cause and being super generous with their donations, it made me proud to be part of FSL.  
Thank you to everyone who donated!"
The collection will continue to the end of the year, so there is still time to contribute: 
https://www.justgiving.com/fundraising/CommunitySleepOutLondon-MeganRook