Ken's Tales of Flora & Fauna (No. 4)
Whilst we are spending more time at home due to the lockdown restrictions, many have turned to their local areas to relax and those lucky enough to have a garden are getting to enjoy them whilst the sun shines.  Here our Managing Director, Ken Gillingham, shares tales from his garden idyll.
Shortening days are a sure sign that the year is moving on.  However, the first 3 weeks of September have been mainly clear, warm, sunny days but with colder nights leaving a heavy dew on the lawn in the morning.  As I write my update late in the month the rain is teeming down and it is much cooler.  It really is the season of mists and mellow fruitfulness now.
In my wild garden the hedgerow is dripping with abundant fruits turning fat and shiny.  Even the honeysuckles have switched from flowering to berrying.  The bramble harvest is in its final throes and the leaves on the trees have started to take on the glorious shades of autumn.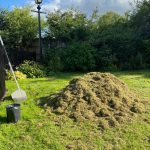 This is the month where I start to focus on my lawn.  I am mowing less frequently as the grass growth begins to slow down and have just started my lawn reinvigoration program.  Over a period of time a layer of dead grass accumulates in any lawn which is known as thatch.  If left in the lawn, it restricts air movement around the grass and can cause problems with surface drainage, encouraging moss and weeds to colonize the lawn.  I have a powered scarifier which makes the removal of thatch in a large lawn very easy.  And boy, do you get a lot out as the photo shows.
For those who read my August update you will remember my infestation of grasshoppers, when the wheat was harvested in the fields around my house.  Well this month there has been an invasion of very annoying small black flies, hundreds of them.  This happens every year and coincides with the farmer spraying liquid pig manure across the ploughed fields in preparation for the sowing of next year's crop.  Not only does it attract the flies it also smells disgusting!
There are increasingly fewer butterflies around, although I have seen occasional small tortoiseshells and red admirals.  The small mammals living in and around the wild garden and stream – wood mouse, bank vole, hedgehog and squirrel – are scurrying about laying food aside for the winter or feeding themselves up for a long sleep.