Ken's Tales of Flora & Fauna (No. 3)
Whilst we are spending more time at home due to the lockdown restrictions, many have turned to their local areas to relax and those lucky enough to have a garden are getting to enjoy them whilst the sun shines.  Here our Managing Director, Ken Gillingham, shares tales from his garden idyll.
As I write my monthly update on 13th August, the weather continues to be unbelievably hot and humid.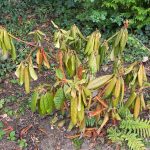 This has had a detrimental impact on all parts of the garden.
The lawn is straw coloured and hardly growing at all.  Trees are shedding leaves in an effort to minimise the need for water.
Smaller shrubs are dying back and several fragile ones have unfortunately died.
The  plants  that need watering most in these drought conditions are those in pots and hanging baskets.  Mrs G is 'chief waterer' and endeavours to douse the pots and baskets twice per day, in early morning and again in late evening.
There are still flowers in bloom, though not so many as early summer.  They are visited by bumblebees and honeybees, and by red admiral, speckled wood and comma butterflies.
August is the last month of the summer and although it's hard to believe, with the abundance of flowers, fruit and foliage in the garden, plant growth really starts to slow down from the end of the month onwards.
We recently bought 2 VegTrugs to grow vegetables and herbs in and have just finished planting one of them with a variety of herbs.  Additionally, for the amusement of our grandchildren, we have placed models of the four main characters from Wind In The Willows amongst the herbs.
The farmland around the house has been a hive of activity as a combine harvester, churning up great clouds of wheat dust, has been harvesting the wheat, often working into the darkness with its lights blazing.  A byproduct of this work has been a plague of grasshoppers who, having lost their habitat, have migrated into local gardens which surround the fields.  I had to close our patio doors for several days as they were hopping indoors in great numbers.  I counted in excess of fifty at the peak of their infestation, on the floor, on the furniture, in the dog's bed, on the window ledges….just everywhere!