Ken's Tales of Flora & Fauna (No. 2)
Whilst we are spending more time at home due to the lockdown restrictions, many have turned to their local areas to relax and those lucky enough to have a garden are getting to enjoy them whilst the sun shines.  Here our Managing Director, Ken Gillingham, shares tales from his garden idyll.
Our garden is now at its very best and has reached its peak for the year.  All our earlier sowing and planting is paying dividends in the borders and beds.  The garden is full of colour and the scent from the flowers such as roses, sweet peas and honeysuckle fills the air.  The trees have lost their youthful, lime green tinges and settled into their mid green high summer coats.  Our two fig trees have a bountiful crop of figs ripening on their branches, with a number of the branches sagging under the weight of fruit.
With the warm weather, pests and diseases can multiply rapidly.  Our wonderful hostas have been munched by slugs and snails and in some areas of the garden they are looking rather sorry for themselves.  Greenfly and blackfly breed especially fast and it can be a full time job keeping on top of the problem.
In our wild garden the bramble is still flowering, but the green fruits are starting to form.  The nettles and long grasses are turning to seed and the fruit on the wild cherry tree has started to ripen along with a bumper crop of wild strawberries.  The hoglets (baby hedgehogs) have started to make foraging trips with their mother and will be setting out on their own towards the end of the month.  The insect life is thriving with bumblebees in particular abundance.  Beekeepers will be taking the first honey of the year from their hives.  Yumee!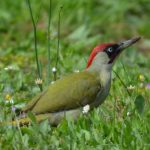 I have been watching a green woodpecker, the largest of the 3 woodpeckers that breed in Britain, make regular visits to garden.  It has a heavy looking body, short tail and a strong, long bill.  Its is green on its upperparts with a paler belly, bright yellow rump and red on the top of its head.  Its diet is almost exclusively ants and it spends its time on the lawn digging into the ground with its long bill and licking up ants with its extremely long tongue.
With the recent strong winds small, unripe apples have been falling from our apple tree and have been providing a welcome snack for the blackbirds.  They are also gathered up by my youngest grandchild, Olivia, who delights in throwing them in the stream, clapping as they splash into the water.