2019 JP MORGAN CORPORATE CHALLENGE
On the 3rd July, FSL joined the JP Morgan Corporate Challenge (JPMCC) in London for the 6th time.
The JMPCC was held over two warm nights in the beautiful Battersea Park and attracted a large crowd of 30,648 entrants from 761 companies to take part on the 5.6km (3.5 miles) running course. HSBC had the largest team with 850 runners.  FSL's team of three was made up of Zuzana Chroma,  Michael Edwards and Zahra Khan.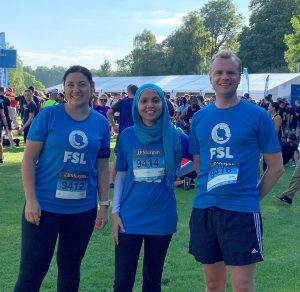 Our first-timer to JMPCC, Zahra Khan, commented
"Let me be honest, I have never run before except for running after my kids!  I have been contemplating taking part in the JPMCC for 2 years but stayed in my comfort zone until this year when I decided to sign-up.  I pushed my boundaries, trained for it and managed to finish on the day, with people still behind me!"
"It was such a satisfying experience, to belong to a bigger community all running for a great cause.  It let me believe that until we try we don't know if we can achieve and everyone starts somewhere."
"Taking part has given me confidence and highlighted the need to keep active throughout the year.  I think I will continue running and participate next year as well."
The JPMCC event beneficiary this year was the Alzheimer's Society. Through many years of growth and development, the Alzheimer's Society currently has a network of over 2,000 services across England, Wales and Northern Ireland.  The donation from J.P Morgan on behalf of all entrants will go towards funding the Society's Dementia Advisers.
FSL's team enjoyed their experience at the 2019 JPMCC and look forward to taking part again next year.