ESG Investor Concerns
As part of FSL's monitoring of key drivers within the financial services sector, we examine results from the latest research.  This month we have focused on some interesting data and studies on ESG.
UK advisers are not obliged to specifically ask clients about their sustainability preferences is one of the consequences of Brexit.  Furthermore, the FCA recently confirmed that there is currently no specific requirement to include questions on ESG investing in the advice process.  However, the concept of ESG is making its own way into investment conversations.
Research from Aegon found 41% of advisers have recently seen an increase in requests for ESG investments from clients.  Recent global flows network data from Calastone showed investors were "starting to fine tune their ESG investments, as ESG equity funds with a targeted geographical or sector focus made up a greater share of inflows.  Indeed £1 in every £12 of overall ESG fund inflows being invested in those with a UK focus.  For the year to date, ESG sector funds have received £764m in inflows, this is ⅔ of all their cumulative inflows since 2015.  The data also showed more than 90% of these ESG flows were into active equity funds."
Therefore, research conducted with investors to highlight their top ESG concerns can help to drive the production of new funds.  The 2021 UK Responsible Investing Study by Research in Finance (RiF) details the top environmental, social, and governance concerns among both retail and institutional investors.  RiF asked investors to name three ESG issues that were front of mind when making investment decisions.
Environmental Issues
For both retail and institutional investors, climate change is at the top of investors environmental concerns. Although, climate change is seen as more vital for institutional investors with 62% of respondents placing it as their primary environmental concern, compared with 48% of retail investors. This was followed by retail investors placing pollution (31%) and carbon emissions (30%) as the subsequent most crucial environmental concerns. Similarly, institutional investors placed carbon emissions (40%) and pollution (36%) as the most pressing environmental concerns.  Therefore, for both retail and institutional investors, climate change, pollution and carbon emissions are the top three most important environmental concerns.
Social Issues
Similarly to environmental concerns, both retail and institutional investors placed workers rights as the most crucial social issue. For retail investors, this was followed by human rights (20%) and fairness/equality (18%). In contrast, institutional investors placed fairness/equality (32%) and diversity (20%) as the most important social concerns.
Governance Issues
Retail investors and institutional investors both placed executives' pay as the biggest governance concern. For retail investors, this was followed by corruption (16%) and independence of the board (16%).  In comparison, institutional investors placed board diversity (23%) and independence of the board as their second and third most importance governance concerns.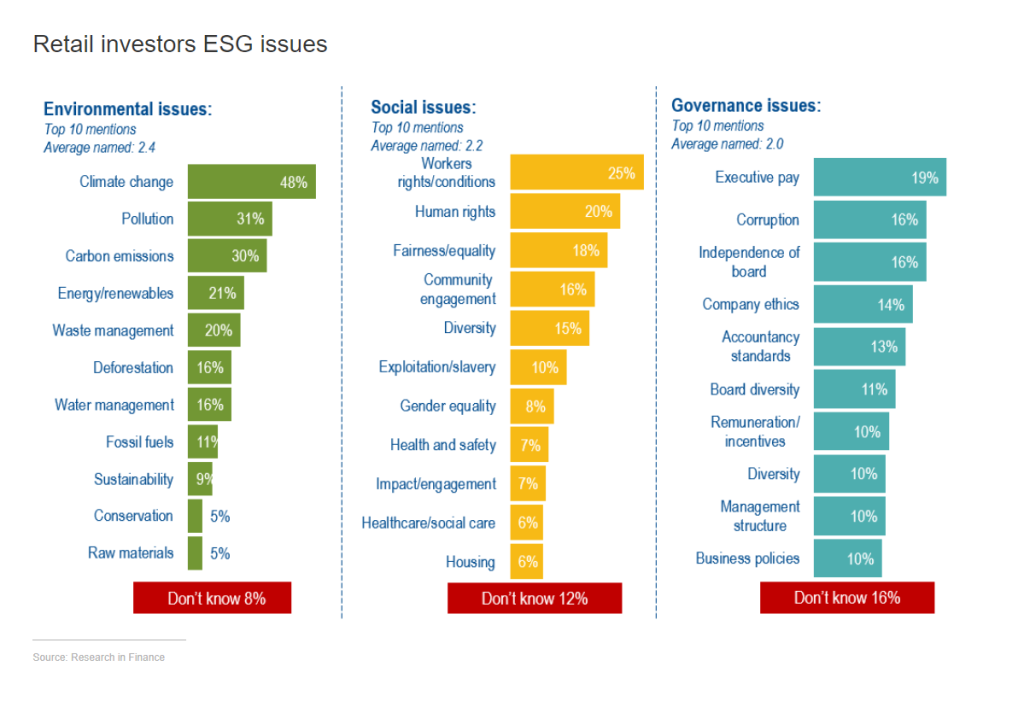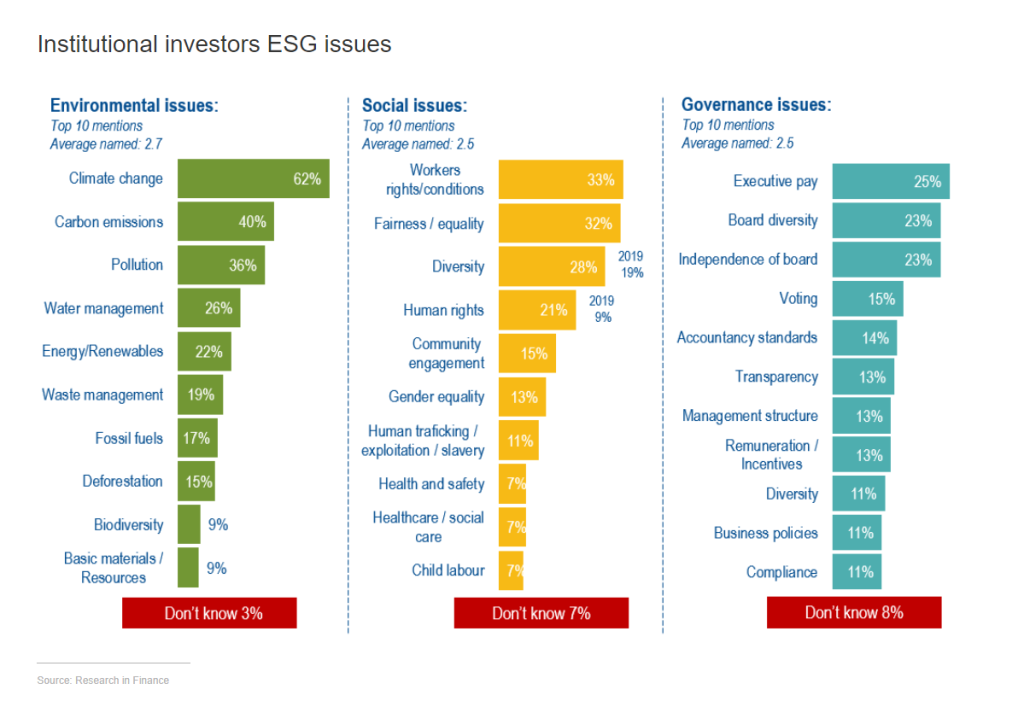 The study indicates that retail and institutional investor see climate change as the most pressing issue.  This is on trend as COP26 currently in session.  Also, as information about the sustainability of an organisation becomes more readily available, there will be an even greater focus on ESG performance, with investors rewarding companies that create long-term value for society.